AstraZeneca launches pioneering Africa Health Innovation Hub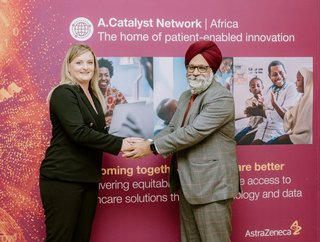 MedSol AI CEO Dr Kathryn Malherbe and AstraZeneca Country President, African Cluster, Gagan Singh
Pharmaceuticals giant AstraZeneca launches Africa Health Innovation Hub to promote healthcare equity via AI, science and technology
AstraZeneca is teaming up with two African AI companies to boost healthcare via the Africa Health Innovation Hub.

This initiative highlights the pharmaceuticals giant's commitment to healthcare equity and showcases the importance of partnerships with governments, healthcare providers, and patient advocacy groups.

The hub – one of 20 A. Catalyst Network hubs worldwide – aims to use artificial intelligence (AI) and easily-accessible apps to improve healthcare for patients in Africa.

"AstraZeneca aims to strengthen and future-proof health systems across the whole patient journey, ensuring everyone has equitable and affordable access to the life-changing healthcare solutions they need, regardless of where they live," said Gagan Singh, Country President, African Cluster, AstraZeneca.

"The launch of the Africa Health Innovation Hub is a significant step in our goal to unlock digital transformation and innovation in health across the continent, paving the way for patient-centric, digital health solutions that leave no one behind."

MedSol and Tricog team up with AstraZenica in Africa
AstraZeneca will partners with MedSol AI Solutions in South Africa and with Tricog Health in Kenya.
MedSol AI Solutions promotes early and accurate diagnosis of breast cancer while Tricog Health provides AI technology to provide remote cardiac diagnosis.
MeSol's state-of-the-art Wi-Fi ultrasound probe can detect breast cancer in seconds. The Melusia app will be rolled out in rural clinics to help in early detection of the disease, supported by a dedicated referral system.
'Breast cancer is a devastating disease, with many women in our communities only able to access late-stage diagnoses," added Dr Kathryn Malherbe (PhD), CEO & Founder of MedSol AI Solutions.
"The Melusi Breast AI project will enable us to leverage technology and innovation to improve early diagnostic detection rates and patient outcomes in local clinics, ultimately saving lives."
AstraZeneca has been working with Tricog for a few years now, piloting Tricog's AI technology in India. Now the Africa Hub aims to enhance early diagnosis and treatment of heart conditions using Tricog's InstaECG AI tools.
"Non-communicable diseases, including heart disease, are on the rise in Kenya and across Africa, and we know that the earlier these conditions are diagnosed, the better chance it is for patients to continue to live long healthy lives," said Dr Charit Bhograj, CEO & Founder Tricog Health.
"By investing in digital health technology, the Africa Health Innovation Hub is enabling the use of advanced AI to screen and diagnose patients remotely, bringing high-quality health tools to people no matter where they live."
The launch of the hub and start of the Medsol AI partnership was held at the Daspoort Poli Clinic in Pretoria, South Africa.
The Africa Health Innovation Hub will align with the four pillars of AstraZeneca's A. Catalyst Network: Education and Awareness, Early Diagnosis and Referral, Connectivity and Technology, and Data Generation.
Based in Cambridge in the UK, AstraZeneca operates in more than 100 countries.