GCC companies lagging on AI opportunity, says McKinsey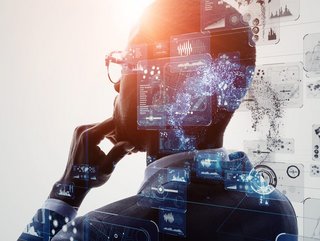 Adoption of AI has the potential to deliver could deliver US$150 billion of value in the GCC countries, McKinsey says
New report from McKinsey suggests there is great opportunity for AI in the Gulf Cooperation Countries of the Middle East, but challenges to be overcome
When it comes to the adoption, implementation and exploitation of the potential power of artificial intelligence, it seems business leaders in the GCC should heed the advice of Elvis Presley – "a little less conversation, a little more action please".
That's according to new research from McKinsey that says AI uptake is slow in the region despite the fact it could deliver US$150 billion of value in the Middle East's Gulf Cooperation Council (GCC) countries.
Not everyone is lagging, of course. Careem, DEWA, and Aramco are all cited as major companies that have delivered clear value through their use of AI – from reducing fraud to lowering emissions.
In a survey of business leaders across the region, some 62% said that AI is being used in at least area of their business. That figure is reflective of uptake in the US, but McKinsey believes there is far more untapped potential.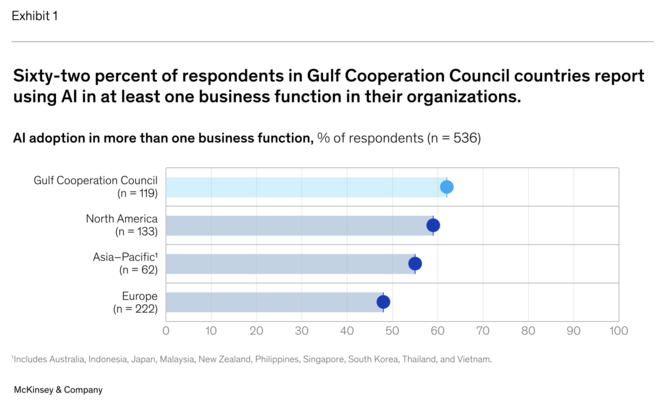 While AI adoption in GCC countries is similar to that of the US, McKinsey believes there is far more potential
Different sectors are adopting AI at different speeds in the GCC. The survey suggests retail companies have made the most progress, while the financial services and capital projects and infrastructure sectors have made least progress.
McKinsey cites energy and materials companies as early investors in AI in a bid to increase efficiency and maintenance. Retailers are leveraging their consumer data to inform pricing, promotions, and suggesting products based on previous purchases. And when it comes to financial services, regulatory hurdles are making it more of a challenge to effectively take advantage of AI.
In this survey, respondents said that energy and materials companies are ahead of the curve in almost all areas. Cloud adoption is highest in retail, but many companies lack a coherent AI strategy.
McKinsey identified four key challenges that companies face when using AI:
Strategy

Organisation and talent

Data and technology

Adoption and scaling
Survey respondents said that organisation and talent was the biggest challenge (37%), followed by data and technology (26%), adoption and scaling (21%), and strategy (15%).

Talent is essential, and competition is currently fierce, with 70% saying they do not have the AI talent that they need today.

McKinsey suggests the following to attract and retain talent in the GCC.

1 Craft an attractive value proposition The best AI talent want to work on the most interesting problems with a high degree of autonomy, and they want career paths that help them develop their skills. GCC companies may therefore need to take a cleansheet approach to hiring.

2 Consider offshore services Some companies use offshore services to jump-start their AI strategy and develop cutting-edge use cases.

3 Invest in capability building Upskill the current workforce. People close to the business understand its priorities and can be trained in AI skills.

4 Collaborate with academia Some companies are missing the opportunity to attract students from local universities and research institutions. Developing better relationships with these institutions, such as the Mohamed bin Zayed University of Artificial Intelligence (MBZUAI) in the UAE, can forge relationships with prospective talent.

Time is of the essence if companies are to make the most of the AI opportunity. Or, as Elvis might have put it, "it's now or never".

Read the full report.