Mercedes-EQ Formula E Team changes gear with e-bike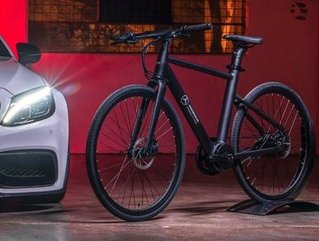 Mercedes-EQ Formula E Team have collaborated with N+ to create a collection of streamlined, lightweight, sleek, high performance electric bikes
Mercedes-EQ Formula E Team have taken their track experience and worked with luxe bike manufacturer N+ to create a collection of luxurious e-bikes aimed at an executive audience.

The new collection promises to take e-bikes to a new level with four models – Formula E, Silver Arrows, Silver Arrows Sport and new high-performance Championship Edition. As you may expect from a Mercedes, some of these models are three times more powerful than standard e-bikes.

The Championship Edition is a dual motor, All Wheel Drive (AWD) bike that delivers 750W of power and 130 Nm of torque. Front suspension forks have been introduced to handle the 45 km/h (28 mph) top speed.

Styling across the range maintains iconic Mercedes-Benz design, concealed batteries and motor. The digital dashboard includes the typical speedometer, battery indicator, range indicator but also includes a password-activated immobiliser and phone charging capability.
The range has been designed to create a powerful yet smooth ride, with centrally positioned motors for efficient weight distribution. The bikes are equipped with constantly variable technology to alleviate any "clunky" gear changes. This, paired with a carbon belt drive and powerful motor output, is the ultimate combination in creating silent "catch me if you can" speed.