What next for Careem, the Middle East's leading super app?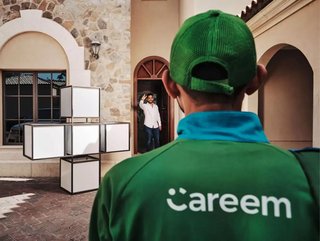 Careem want to become the biggest mover of people and goods in the region
The Middle East's first and biggest unicorn, Dubai-based tech company Careem looks set to accelerate its super app status, following advanced talks with e&
It's been quite the ride for Careem.
Starting out as a Dubai-focused ride-hailing app in 2012, in just over a decade, Careem has become the region's startup success story – growing from an idea in 2012 to the Middle East's first unicorn with value of US$3.1 billion today.
Not only has the tech unicorn become the transport of choice in more than 80 cities across 10 countries, from Pakistan to Morocco, and registered more than 50 million customers on its app, but it has secured the backing of big-name investors, including Silicon Valley giant Uber, which acquired Careem in 2020 for a ground-breaking US$3.1bn in a deal that is one of the region's most lucrative.
As the saying goes, if you (Uber) can't beat them, join them.
Careem has since extended into more than a dozen services, including food delivery, bike rentals, digital payments, and courier services, as it looks to super app stardom and become one of the largest technology companies in the MENA region.
And that goal may well be within reach, following news this week from Reuters that the company is in advanced talks with Emirates Telecommunications Group Company (etisalat by e&) regarding super app investment.
Careem has reportedly been looking for external investors since last year to help fund its super app, with talks held with Saudi Arabia's PIF and Abu Dhabi's ADQ, Bloomberg reported.
Careem – following in Asia's super app footsteps
With a move towards super app status, Careem follows in the footsteps of its Asia-based peers, where the super app business model has grown quickly in recent years.

China's WeChat model, owned by Chinese tech giant Tencent, was the original super app, and can really claim super app status, given it is the portal to 3 million third-party 'mini-programs,' where its 1.26 billion monthly active users can hail a ride, pay for their gas, or even buy a new car.

Among other Asia-based super apps are Singapore-based Grab and Indonesia-based Gojek, the latter a blockbuster merger between two of the country's largest start-ups, one ecommerce, one ride-hailing, to form a superapp offering both of these, as well as food delivery and fintech.
Like Careem, Grab began life as a ride-hailing app (in 2012) beating Uber in the Southeast Asia region, attracting big-name investors (Tencent), claiming unicorn (and then Decacorn) status, and eventually moving into super app status.
Grab has proven that by becoming an early lead in key markets as a ride-hailing app, it is much easier to then become a dominant player in other services – a concept Careem hopes to replicate.
Careem's super app also provides third-party digital businesses the infrastructure and network to scale as 'tenants' on its platform. By building their services on the app, a company gets instant access to 100 cities, rather than having to set up in individual cities themselves.
Last July, Careem co-founder Mudassir Sheikha told The National's Business Extra podcast that because the company has laid the groundwork for technical, legal and operational infrastructure in more than 100 markets across the Middle East, North Africa and Pakistan, it should help digital companies that offer services an easier entrance into new markets.
"Conceptually speaking, it should be easier to build on the Careem super app than building outside [it]," he said.
But Careem does have a number of regional super app players following its lead, as the business model looks set to proliferate in the MENA region. Egypt's MNT-Halan, which recently reached unicorn status, offers numerous financial products alongside e-commerce options, while North Africa-focused super app Yassir raised $150 million in late 2022.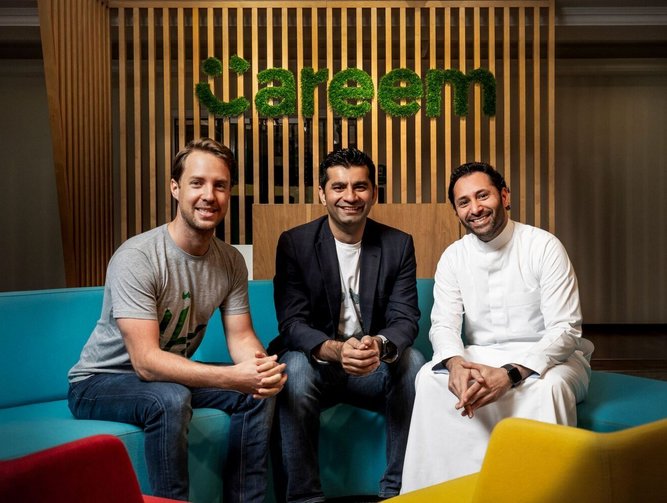 Careem founders, Magnus Olsson, Mudassir Sheikha and Abdallah Elyas
Careem in 10 years – from ride-hailing app to super app
Founded by two former Dubai-based McKinsey consultants, Pakistan-born Mudassir Sheikha and Swedish Magnus Olsson, Careem was born as a corporate chauffeur service in Dubai in 2012, quickly becoming a ride-hailing app.
Within a year of launching, Uber entered the market – but as a homegrown brand, and one in a landscape then short on startups, Careem quickly and successfully secured the backing of numerous regional companies, including STC, Al Tayer, Saudi Arabia's Kingdom Holding, Kuwait Investment Authority, and Abraaj Capital, one of the region's leading private equity firms.
Following investment, the startup was able to expand to further cities, growing quickly from one to 80 cities within just four years. And it wasn't long before Careem had overtaken the Silicon Valley giant, expanding further, including into second-tier cities across many countries, so that by 2016, it has more than 6 million users with 150,000 Captains in 47 cities across 11 countries.
It also has unicorn status under its belt, having reached valuation of US$1bn in December 2016. And just a few years later, in 2019, the app had more than 33 million users and 1.2 million Captains across more than 90 cities.
Little surprise then that Uber decided to acquire Careem in a US$3.1bn deal that ensured both still operated independently, with a broader range of services to include food delivery. Careem is now a wholly-owned subsidiary of Uber.
By this time, Careem had already set its sights on super app stardom, acquiring Saudi-based home delivery service Enwani in 2015, and bringing on board Enwani co-founder Abdallah Elyas as a Careem co-founder.
"Careem want to become the biggest mover of people and goods in the region," Abdallah said at the time, laying out what is the ultimate objective for Careem.
Careem has since expanded into multi services, including food delivery, bike rentals, courier services, and Careem Pay, which streamlines payment experiences for customers, Captains, and merchants.
The super app's latest feature, One-Click Checkout, allows its customers in the area to make purchases on third-party merchant apps and websites instantly. The feature is currently available on 6thStreet.com, an online fashion retailer in the GCC, with plans to introduce more merchants soon.
While it hasn't always been an entirely smooth ride for the unicorn, with the data of more than 14 million customers hacked in 2018 and protests from taxi drivers in Egypt, Careem has grown into the region's biggest super app and one of its largest homegrown tech companies.