Citi, Rothschild lead M&A advisors in MENA, as deals climb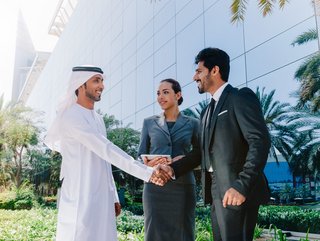 Citi and Rothschild were top M&A advisers in MENA in 2022 following regional investments by both firms and as the region records higher M&A activity
Citi and Rothschild & Co were the top mergers and acquisitions (M&A) financial advisers in the Middle East & Africa (MENA) region in 2022, according to the latest league table by GlobalData, which ranks financial advisers by the value and volume of M&A deals on which they advised.
Citi led on value of deals, advising US$12.8 billion worth of deals, and Rothschild & Co led in volume terms by advising on a total of 15 deals.
While Citi saw a decline in the number of deals it advised on last year, the total value of these deals was much higher, growing by a massive 82.9% in 2022 compared to 2021. This resulted in a significant jump by Citi in its ranking by value, moving from fifth position in 2021 to top spot.
JP Morgan took second place in value after Citi, by advising on US$11.2bn worth of deals, followed by Centerview Partners with $7.4 billion; Bank of America with $7.2 billion; and Goldman Sachs with $6.9 billion.
When it comes to deal volume, Rothschild & Co, the top adviser by deals volume in 2021, retained its top advisor crown in 2022, despite suffering a decline in the number of deals, according to Aurojyoti Bose, Lead Analyst at GlobalData.
Deloitte took second spot in terms of volume with 11 deals; followed by JP Morgan with seven deals; Goldman Sachs with seven deals; and Lazard with five deals.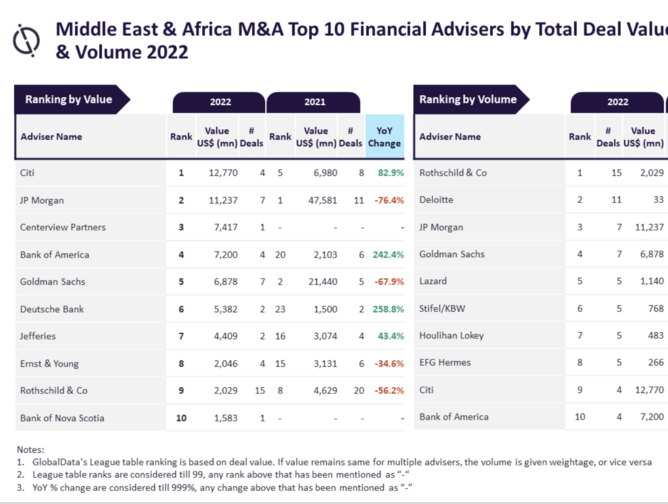 Citi and Rothschild investing in the Gulf region
Citi and Rothschild & Co's dealmaking successes come off the back of increased investment in teams in the GCC region – as they look to tap into the potential of one of the most promising investment banking markets globally and take advantage of an upturn in M&A and a hot Gulf IPO market – boosted by high oil prices and government-led privatisation programmes.
Citi's wealth management and investment banking team has increased by 50% in the UAE and Saudi Arabia. The group moved its director for power, renewables and utilities, Omar El Duraie, to Dubai from London last year.
Paris-based financial investment and advisory firm Rothschild has also expanded regionally, officially opening an office in Saudi Arabia in October last year and naming Nasser Alissa as the firm's head in Saudi, and Mark Sedwill as Chairman, with more bankers to follow.
While, in October last year, Bloomberg reported that JPMorgan Chase & Co was adding an additional 20 people to its operations in Saudi Arabia by the end of the year.
Advisory fees from M&A in MENA highest since 2000, as activity accelerates
The number of deal announcements, including M&A transactions, in the MENA region increased 5% in 2022 from the previous year and was the highest first nine-month total since records 1980.
A total of 524 M&A deals worth US$55.2bn was announced here in the first nine months of 2022, according to the latest EY MENA M&A Insights report, with domestic deals the main driver of activity in the region.
According to Brad Watson, EY MENA Strategy and Transactions Leader, the MENA region "continues to record higher M&A activity, fuelled by expected economic growth through higher oil prices and an acceleration in business-friendly reforms".
And this in turn led to increased spend on transaction fees, with advisory fees earned from completed M&A transactions in the region reaching US$339.6 million in the first nine months of 2022, according to Refinitiv's recently released investment banking analysis of the MENA region.
This marks a 26% increase from 2021 and the second highest first nine-month fee total since records began in 2000.
Almost half of this year's fees were generated during the first three months of the year, with quarterly fees declining in the following two quarters. Fees totalled US$186.4 million during the third quarter of 2022, the lowest quarterly total in the region in six years.