Finance experts in MENA more receptive to digital currencies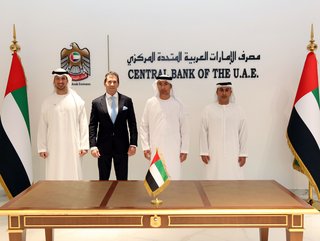 The Central Bank of the UAE engaged with G42 Cloud and R3 for its 'digital dirham' currency
CFA Institute survey shows investment professionals in the MENA region are more optimistic about Central Bank Digital Currencies (CBDCs)
If you are unfamiliar with Central Bank Digital Currencies, or CBDCs, you are not alone. Even global investment professionals have limited understanding of these future-finance solutions, and opinion seems divided on whether they should be adopted at all.
However, while that is the global picture, the view is very different in emerging markets like MENA. That's according to a new survey from the CFA Institute, the global association of investment professionals with 190,000 members in 160 markets.
Globally, only 42% of those surveyed said that central banks should launch CBDCs, but that figures rises to 63% in the MENA region.
This is not just a theoretical situation, and the Central Bank of the UAE (CBUAE) has been leading the way.
Back in 2020, CBUAE worked on Project Aber with the Saudi Central Bank to settle cross border payments. Then in 2022, the mBridge Project saw the CBUAE work with the Hong Kong Monetary Authority, the Bank of Thailand, and the Digital Currency Institute of the People's Bank of China and the Bank for International Settlements on the first real value cross-border payments pilot.
Twenty banks used that pilot to make 160 payments and FX transactions worth US$22 million over a six-week period.
Now the CBUAE is working on the soft launch of mBridge for international trade settlement, building CBDC bridges with India, and developing domestic CBDCs for wholesale and retail use.
Bahrain has also got in on the CBDC action. In 2021, Central Bank of Bahrain began working with Bank ABC and JP Morgan. In 2022, using JPM Coin, Bank ABC made real-time payments for Aluminium Bahrain to recipients in the US.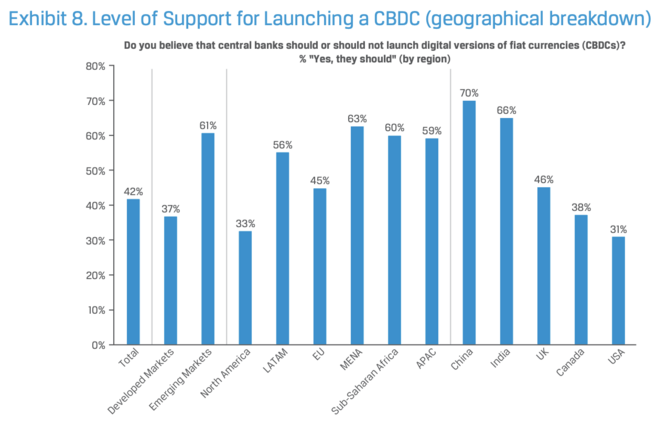 The MENA region is behind only China and India when it comes to appetite for CBDCs
Concerns over cybersecurity, fraud and data holding back CBDCs
But while GCC and emerging market central banks are exploring the potential benefits – not least accelerated payments and transfers – there remain concerns globally regarding cybersecurity and fraud, data privacy, and a lack of meaningful use cases.
There are other benefits besides speed. Those surveyed in MENA pointed to financial stability (56%) and inclusion (54%).
"Whilst there is still much work to be done to ensure successful implementation and widespread adoption of CBDCs, our survey demonstrates there is strong appetite in emerging markets such as MENA, but success requires that central banks engage more with the public and market participants on the potential benefits of CBDCs," Antoine Shehadeh, Senior Director, MENA at CFA Institute.
"Acceptance by end-users will be critical for any central bank digital currency, and the region's positive response paves the way for a future where digital currencies play a vital role in advancing financial systems and empowering individuals and businesses across the region.
"By addressing concerns related to cybersecurity, data privacy, and highlighting practical use cases, central banks will be better equipped to encourage individuals and businesses to adopt CBDCs."
******
For more business insights check out the latest edition of Business Chief Middle East & Africa and be sure to follow us on LinkedIn & Twitter.
You may also be interested in Business Chief US & Canada.
Please also check out our upcoming event - Sustainability LIVE in London on September 6-7, 2023.
BizClik is a global provider of B2B digital media platforms that cover executive communities for CEOs, CFOs and CMOs, as well as leaders in Sustainability, Procurement & Supply Chain, Technology & AI, Cyber, FinTech & InsurTech. We also cover industries including Manufacturing, Mining, Energy, EV, Construction, Healthcare and Food & Drink.
BizClik, based in London, Dubai and New York, offers services such as content creation, advertising and sponsorship solutions, webinars and events.