Saudi startup ecosystem takes huge leap with investments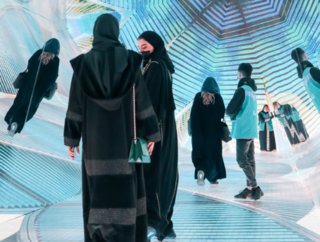 Saudi Arabia's venture capital market has been evolving at a very fast pace, with US$2.43bn of investment announced at LEAP2023 to empower tech startups
Investment in Saudi Arabia's tech startup ecosystem took a major leap forward last week, with banks and global organisations committing a total of US$2.43bn of investments during the LEAP23 tech conference in Riyadh.
The new funding is designed to empower tech startups in their journey to becoming unicorns and is part of the Kingdom's push to grow its startup and SME sector.
This comes as the world's top oil producer ramps up its Saudi Vision 2030 to diversify its economy away from its reliance on oil, create jobs and attract high-skilled talent.
Technology is a strong pillar of Saudi Vision 2030, with Riyadh encouraging entrepreneurship and seeking investment from local and foreign entities to develop the sector.
Fintech, space, gaming among sectors gaining investment
Among the organisations offering the billion-dollar funding are banks, investment firms and venture capital companies.
Saudi Arabia's Riyad Bank and Banque Saudi Fransi each signed off on US$1bn in financing for companies in the telecommunications and IT sector and in the information and communications sector, respectively.
Riyadh-based IMPACT46 committed US$133m investment for emerging tech firms across the Middle East; and VC firm Merak Capital launched the Merak Fund for direct financing, valued at US$53m, to nurture tech companies in the Kingdom.
Fintech, space, gaming and Shariah-compliant were among sectors receiving targeted funding.
Saudi-located VC firm STV announced an investment of US$150m for alternative investing compatible with Shariah law; Saudi Investment Bank earmarked US$40m for an innovation incubator in the fintech sector; Shurooq Partners launched a US$115m financial fund to accelerate electronic games; and Planetary Capital unveiled the first Saudi-Canadian corpus to invest in emerging space technology companies, local and global, an worth US$30m.
LEAP23, which ran February 6-9 in Riyadh, welcome 920 investors, including Sequoia Capital, Octopus Ventures, 500 Global, who, between them, control an unprecedented US$1.9 trillion in assets under management.

This year saw the inaugural LEAP Rocket Fuel Startup Pitch Challenge, where 90 global startups fought for a chance to be one of the emerging businesses selected to potch before a judging panel consisting of Shark Tank India's Ghazal Alagh, Baroness Karren Brady, aide to The Apprentice's Alan Sugar, and Dragon's Den star Steven Bartlett.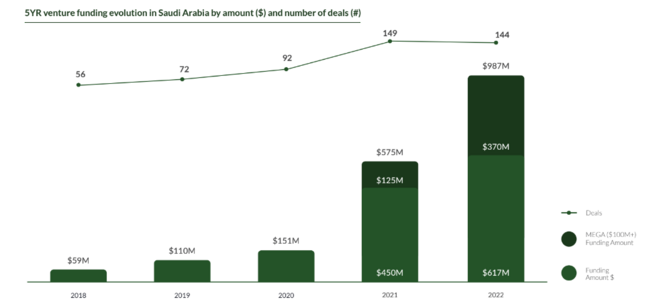 Saudi seeing surge in startup investment
The start-up sector in Saudi has grown exponentially over the past few years rising in line with the Kingdom's big digital digitalisation push in key sectors such as retail, services, e-commerce and government.
Saudi saw a 72% annual increase in venture capital funding to US$987m across 144 in 2022, the latest Magnitt Venture Capital Report found.
A record 104 investors backed Saudi Arabia-based startups in 2022, up by 30% annually, with 79% of investors hailing from within the kingdom.
This marked the Kingdom as the second-most funded geography after the UAE in the Middle East and North Africa for last year, with Saudi accounting for 31% of total capital invested in the region.
Among the Kingdom's most active backers are 500 Global, Sanabil 500 and IMPACT46, with Sanabil 500, a partnership between Riyadh-based Sanabil Investments and San Francisco-based 500 Global since 2021, having helping 39 startups graduates to date.
"Saudi Arabia's venture capital market has been evolving at a very fast pace, especially on the regulatory and legal fronts," Haifa Bahaian, chief legal officer at Saudi Venture Capital (SVC) says.
Haifa points to the issuance of the new Companies Law by the Ministry of Commerce and the Investment Funds Regulations by the Capital Market Authority as a "very important step" in developing the ecosystem and helping entrepreneurs and local fund managers.
Khaled Alsuraisry, head of co-investment in startups at Saudi Venture Capital, attributes the surge in 2022 to the recent availability of venture debt and the increasing number of high-quality accelerators.

"It is all starting to come together for the Saudi ecosystem" Mr Alsuraisry said. "Exits are being materialised, investors across the globe are flocking to the market and regulations are continuously changing to accommodate disruptive start-ups, all signaling for a breeding ground for start-ups that is Saudi Arabia."

The Arab world's biggest economy also recorded the highest number of merger and acquisition activity, with 10 exits in 2022, accounting for 14% of all MENA exits with early-stage deals securing the lion's share of transactions in the kingdom at 84%, the report found.
LEAP2023 –