Dutch, English, French happiest in Europe, reveals Ipsos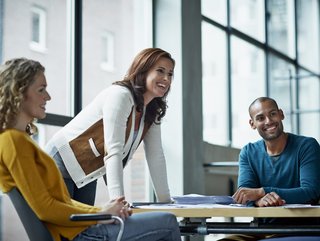 While the Dutch are the world's happiest, people in the UK and France follow close behind, as a new Ipsos study reveals global happiness is on the upswing
People living in the Netherlands are the world's happiest, according to a new Ipsos study of 30 countries, with 86% of adults reporting being very happy or rather happy.
Happiness levels are also high in Australia (85%), China (83%), Great Britain (83%), India (82%) and France (81%), where more than three out of four adults report being very happy or rather happy – this is compared to the two in three adults (67%) global average.
In Europe, Spain remains the country with the lowest percentage of adults who consider themselves happy (55%).
The prevalence of happiness globally is understandably higher than it was in mid-2020, at the height of the Covid-19 pandemic, but interestingly, it is also higher than mid-2019, months before the onset of the pandemic.
That said, today's happiness levels still have a long way to go to regain the global heights of 77% recorded in 2011 and 2013.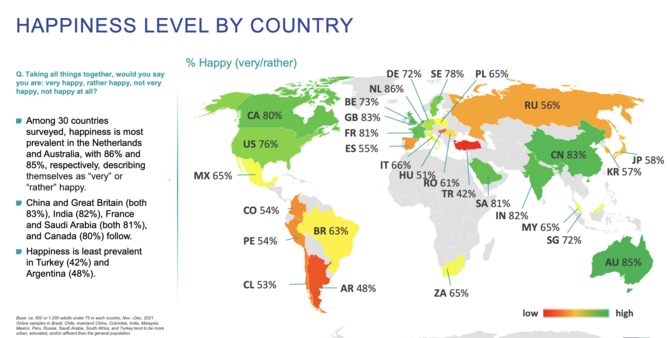 Health, family, purpose are top sources of happiness post-pandemic
Health, family, and purpose are today's key drivers of happiness, with the survey finding that, across the world, people are looking to their physical health and mental wellbeing (54%), their family (49%), and having a sense of purpose (49%) as the things that give them "the greatest happiness".
Next come living conditions, feeling safe and in control, being in nature, having a meaningful job, and having more money.
Nearly all sources of happiness have remained stable since mid-2020, with 'new political leadership in my country' and 'moving to another country' experiencing the highest increases.
Compared to pre-pandemic levels, the drivers of happiness that have seen the greatest gains are being forgiven, forgiving someone, finding someone to be with, and religious or spiritual wellbeing.
How European countries differ in sources of happiness
Individual countries differ in happiness drivers, however, with the French prioritising finances, the Japanese pegging hobbies and free time as important, and the South Koreans pointing to the state of the economy as a key factor in driving their happiness.
Living a meaningful and purposeful life was the top driver of happiness for those living in South Africa, while having children was the greatest giver of happiness for the Spanish, Swedish and French.
Finding someone to be with is especially important for Germans, having more money is a big source of happiness for the French and Saudia Arabians, being recognised as a successful person brings particular joy for those in Turkey, and being in nature is a significant driver of happiness for Italians, Turks and Germans.