People Moves UK: Unilever, Standard Chartered, Accenture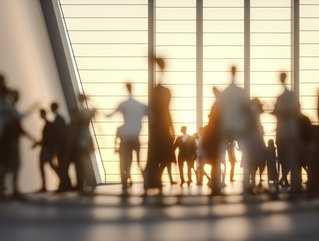 In a week where Unilever shakes up its leadership team, we highlight executive moves in the UK, with sustainability, HR and consultancy roles dominating
Nitin Paranjpe moving from COO to CPO of Unilever
Having served as COO of Unilever for nearly three years, Nitin Paranjpe is set to take on a new role from April 1 at the consumer goods giant, as chief transformation officer and chief people officer, leading the business transformation and heading the HR function.
This comes as Unilever announces changes to its organisational model, designed to make it a simpler, more category-focused business, and to its leadership team which includes cutting management jobs by 15%.
A member of the Unilever Leadership Executive team for eight years, as COO since May 2019, Paranjpe has been responsible for delivering in-year results for Unilever globally. Prior to the COO role, he served in a number of leadership roles at Unilever in both India and the UK including as President, Foods & Refreshment, President of Unilever's Care Division and CEO of Hindustan Unilever, India and EVP for Unilever, South Asia.
Paranjpe joined Unilever at Hindustan Lever Limited (India) in 1987 where he held various roles in marketing and sales, moving in 2000 to Unilever London where he was involved in a review of the organisation structure. For his efforts in blazing a trail for diversity, he won the GG2 Hammer Award in 2019.
Marisa Drew to join Standard Chartered as chief sustainability officer
Finance veteran Marisa Drew will join Standard Chartered as chief sustainability officer in July 2022.
With extensive financial experience and an MBA from Wharton Business School, Drew has secured a number of prestigious accolades during her more than three decades in finance. She was first recognised in the Financial News Top 100 Influential Women in Finance in 1997 and landed the Women in Banking and Finance annual Achievement in Finance award in 2008.
Drew joins from Credit Suisse where she has spent nearly two decades in a number of senior positions, most recently serving as chief sustainability officer and global head of sustainability strategy, responsible for strategy and creating sustainable investment products on behalf of the bank's wealth management, institutional and corporate clients. She also spent a decade at Merrill Lynch as a managing director.
In this new role, Drew will chair the Group Sustainability Forum, drive the Bank's net-zero commitments and oversee the existing sustainable finance and strategy teams.
Tom Reichert joins sustainability consultancy ERM Group as global CEO
A consulting veteran with more than three decades of experience, Tom Reichert will take up the lead role as global CEO of the world's largest pure-play sustainability consultancy ERM Group from February.
Recognised in 2020 as one of the Power Players of Consulting by Business Insider, Reichert joins from BCG where he spent 27 years, most recently serving as Global Leader of DigitalBCG. In this role, Reichert stood up BCG's Social Impact and Sustainability Peace and helped launch BCG's Center for Climate & Sustainability. He has lived and worked extensively across North America, Europe, Australia and Asia, helping clients transform their businesses.
Reichert's blend of "leadership experience across digital transformation, change management and C-suite advisory will be hugely valuable" in this role, says David McArthur, COO, where he is tasked with leading a team of 6,500 professionals in more than 40 countries and building on ERM's 50-year track record in the sustainability consulting market.
Lisa Rose named Accenture's HR lead in the UK and Ireland
Having spent nearly three decades with Accenture, Lisa Rose has been selected to be the consultancy's new head of HR in its UK and Ireland wing.
With 27 years at Accenture under her belt, Rose brings to the role "an incredible set of skills", says Accenture's UKI Market Unit Lead, Simon Eaves, which she will utilise as the firm enters a growth spurt having recently announced plans to create 3,000 new technology roles in the UK by 2025.
Rose most recently led HR in Ireland, for the past three years, overseeing a period of rapid growth in the country, and has held other senior positions including as Accenture's HR Lead for Financial Services in Europe and Latin America. She also set up Accenture's Analyst Consulting Group, which develops early-career consultants. She began her career at Accenture as a consulting graduate straight from Durham University where she read modern languages.
Benoit Hudon is appointed President and CEO of Mercer UK
Seasoned Mercer consultant Benoit Hudson has been appointed President and CEO of Mercer UK, subject to regulatory approval.
With over 25 years of experience in risk and HR management consulting, Hudon brings to the role a deep understanding of the UK market and business, and a track record of driving innovation and results. Hudon has spent the past nine years at Mercer in various leadership roles, and since 2018 has been Mercer's UK Head of Wealth, helping clients navigate the complexity of the pandemic and work to achieve sustainable outcomes.
Prior to Mercer, Hudon spent a decade at Willis Towers Watson in its Montreal office and five in its Toronto office. According to Mercer CEO, Martine Ferland, "Benoit has consistently delivered for our business, amplifying the differentiated value Mercer brings to our clients and unlocking the full potential of our colleagues".