Top 10 United Arab Emirates megaprojects to watch in 2023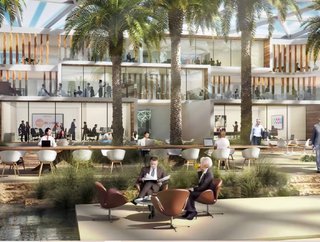 From the world's biggest solar park to the world's largest urban tech district, these 10 megaprojects currently under construction are the UAE's future
Already home to the world's tallest building (Dubai's Burj Khalifa) and the world's largest vertical farm (Crop One, Dubai), the United Arab Emirates is no stranger to ambitious projects.
But 2023 (and beyond) looks set to be the Middle East country's most ambitious years yet, with a growing list of mega projects planned in Dubai, Abu Dhabi and the wider emirates.
As well as awe-inspiring hotels and residences, and ground-breaking theme parks and museums – from the world's tallest residential tower (Burj Binghatti) to the largest aquarium (SeaWorld Abu Dhabi) – the UAE is delivering a roster of mega projects in the commercial and business sector.
We round up 10 of the most ground-breaking megaprojects under construction in the country.
1 Dubai Urban Tech District
Currently under construction, Dubai's Urban Tech District will be the world's largest urban tech district when completed. Described by Baharash Bagherian, CEO of sustainable city developer URB as a "global tech hub for urban innovation", the 140,000 sqm district will enable the growth of urban-tech solutions (those that address the challenges of urban living) at a much larger scale, as well as provide investment opportunities to innovators that are tackling some of the most critical issues related to sustainable cities.
The district, which will be net zero carbon, will play host to conferences, seminars, business incubation programs, training, and research sessions and will be home to VCs and to the urban tech institute, which will foster the next generation of urban tech leaders. It is set to create 4,000 jobs in green urban tech, education, and training.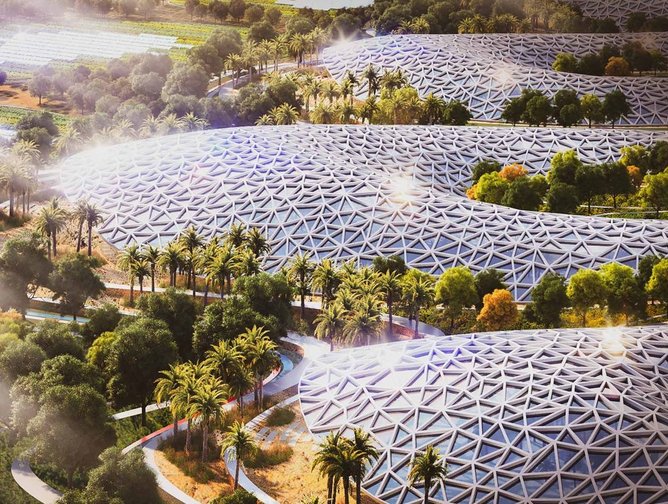 2 Agri Hub by URB
Sustainable developer URB is also behind a new agritourism project in Dubai's desert, which will begin construction in 2025 and when finally complete, in 2030, will become the biggest of its kind in the world. As well as transforming Dubai in the "world's best rural visitor attraction", according to URB, Agri Hub will ensure the emirate's food security and "promote greater health, wellbeing, and prosperity for rural local inhabitants".
Local farmers will be able to sell their products directly from their farms, and visitors will get an eco-friendly shopping, dining, and edutainment experience. Among the project's environmental credentials is 100% renewable energy, 100% water recycling, bio-saline agriculture, and on-site zero waste management. and it will create 10,000 jobs.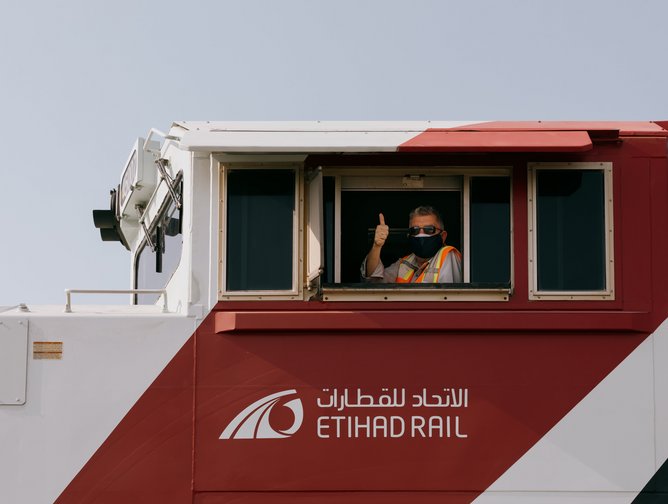 3 Etihad Rail
Arguably one of the UAE's most ambitious projects, not to mention the largest infrastructure project the emirates has ever seen, Etihad Rail is a ground-breaking US$13.6bn railway network currently under development.
Already 75% complete, once fully finished in 2024, the network will connect 11 cities across the UAE's seven emirates and stretch 1,200km from the border of Saudi Arabia to the border of Oman. The network is expected to transport more than 36.5 million passengers and 60 million tonnes of freight annually by 2030, with freight and passenger trains reaching speeds of up to 120 and 200 km/h, respectively.
Not only is the project creating thousands of jobs, it will slash carbon emissions, and provide businesses with a sustainable, efficient, and cost-effective solution to regional cargo transportation and logistics.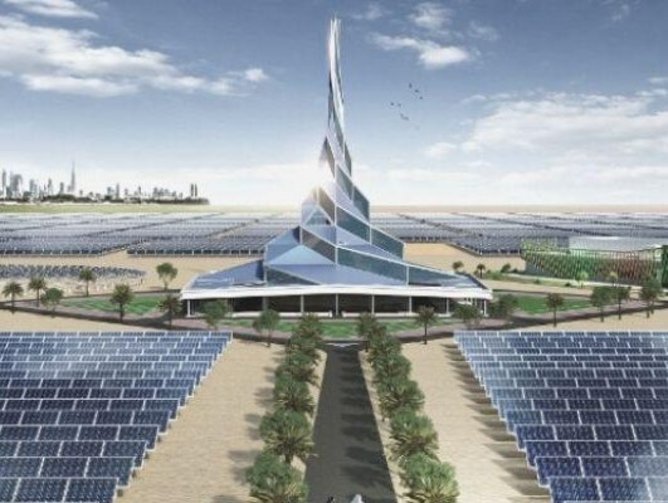 4 Mohammed bin Rashid Al Maktoum Solar Park
The world's largest single-site solar park is under construction in Dubai. As part of the UAE's strategy to reduce reliance on natural gas and diversify its economy and power sources, the Dubai Electricity and Water Authority (DEWA) is building the Mohammed bin Rashid Al Maktoum Solar Park.
When completed, the AED50bn project will save more than 6.5 million tons of carbon emissions annually. The fourth phase will provide clean energy for some 320,000 houses and cut 1.6 million tonnes of carbon emissions annually. Alraedy providing clean, renewable energy, the solar park will have a production capacity of 5,000 megawatts (MW) by 2030.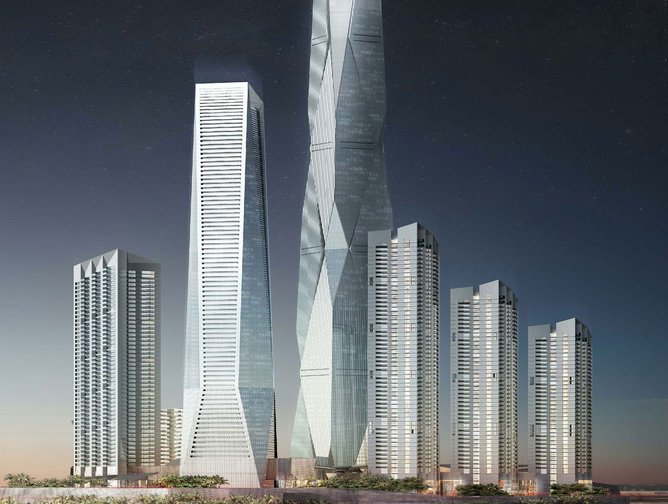 5 Uptown Tower District
Built in response to growing demand for office and commercial space, the new Uptown Tower development in Dubai's Uptown Dubai at Jumeirah Lakes Tower will feature three commercial towers. The first tower, which is just finishing completion and is fully leased, stands at 340m (79 floors), making it the 14th tallest in Dubai, and boasts 2,000 residential units, a SO Sofitel five-star hotel, and 495,000sqft of Grade A office space across 22 floors.
Among anchor tenants are Hisense, HIKVision, the Gemological Institute of America and Dubai Multi Commodities Centre (DMCC), the free zone behind the project. Work on the next two commercial towers in the project is set to begin soon, according to DMCC.
6 Yas Creative Hub, Abu Dhabi
Once complete, this world-class ingenuity hub located in Yas Bay, Abu Dhabi, is set to become a thriving community of creativity. Described as a smart ecosystem that prioritises data, tech and resource efficiency, the twofour54 project will deliver a walkable campus, sustainable intelligently conceived landscape design, innovation incubation spaces, amphitheatre, studios, and production facilities and will house more than 10,000 professionals.
7 Hydroelectric Power Plant, Hatta
Currently nearly 60% complete, Hatta's Hydroelectric Power Plant is being built by Dubai Electricity and Water Authority (DEWA). The first of its kind in the GCC, the US$387m project is part of the Dubai Clean Energy Strategy 2050 and the Dubai Net Zero Carbon Emissions Strategy 2050 to provide 100% of Dubai's total power production capacity from clean energy sources by 2050 – among them, solar power, and green hydrogen production.
When complete, in the last quarter of 2024, the station will have a production capacity of 250 megawatts, a storage capacity of 1,500 megawatt hours and a lifespan of up to 80 years.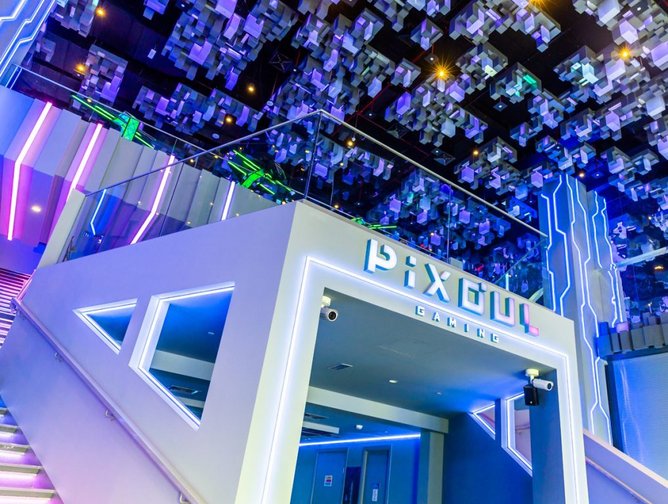 8 Pixoul Gaming, Abu Dhabi
This gaming complex will not only feature both world-class eSports and futuristic Virtual Reality games for entertainment, but the first-ever certified eSport academy in the region – armed with the mission of highlighting the importance of playing responsibly.
A collaboration between Al Barakah International Investment and Robocom VR, Pixoul Gaming will be part of Al Qana, the unique waterfront social, dining and entertainment destination in Abu Dhabi.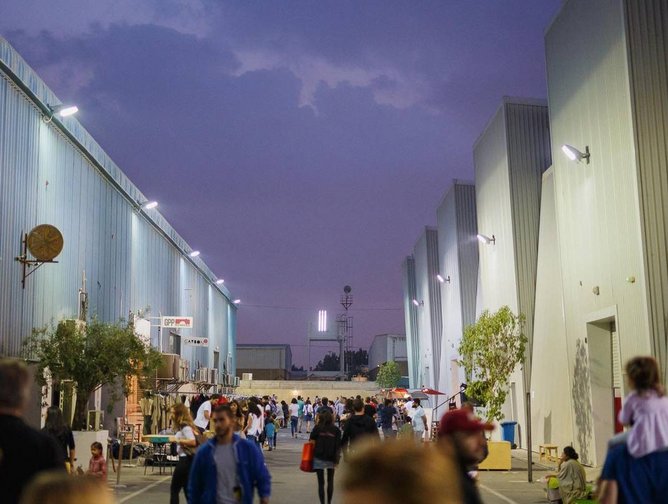 9 Al Quoz Creative Zone
With Al Quoz Creative Zone, Dubai is set to be home to one of the largest creative hubs in the world. The project, scheduled to complete in 2026, aims to create a vibrant cultural and creative destination and community that supports the journey of creative industries and entrepreneurs through all stages of the creative industry value chain, from design and implementation to distribution and marketing; and encourages the public to engage with art, culture, and creativity.
Slated to be one of the largest communities of its kind in the world, when completed the zone will host 20,000 creatives, including providing housing for 8,000, and will attract 33,000 visitors per day.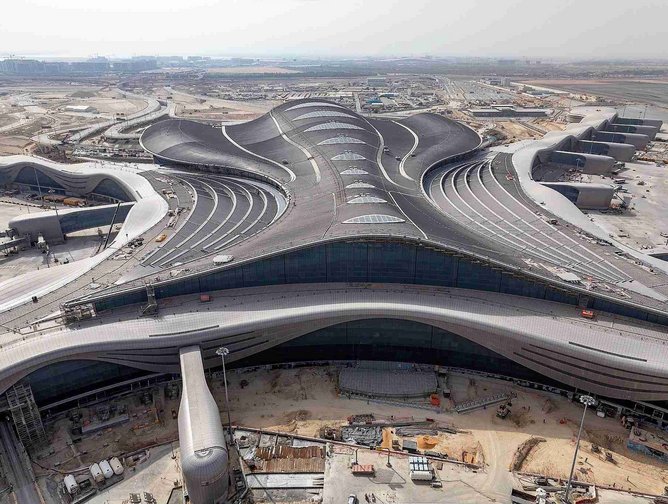 10 Midfield Terminal
Under construction since 2012, the Midfield Terminal Building at Abu Dhabi International Airport is a new US$2.94bn facility being developed to support the UAE capital's 2030 vision of increasing tourism in the region. The 700,000sqm terminal, comprising a full terminal building, passenger, and cargo facilities, duty-free shops and restaurants, will enable a doubling of the number of passengers landing each year.
The project has sustainability at the forefront of its design, utilising cutting-edge design elements and innovation and recycled materials to minimise its impact on the environment. The terminal will also employ advanced AI technology becoming the first international airport with biometric capabilities at all customer touchpoints, from self-service baggage to immigration e-gates.