UAE rail freight network opens, US$3bn Oman expansion boost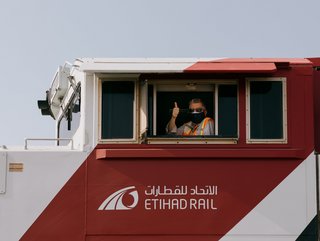 One of 38 Etihad Rail freight locomotives serving the network
Sheikh Mohammed bin Rashid, the UAE Vice President and Ruler of Dubai, has officially opened the UAE's freight train network Etihad Rail
The UAE's freight train network megaproject Etihad Rail has been officially opened by Sheikh Mohammed bin Rashid, the UAE Vice President and Ruler of Dubai.
This megaproject will ultimately connect all seven emirates in the UAE as well as provide passenger and freight services beyond the nation's borders – connecting with Saudi Arabia and Oman.
"We are proud of the performance of our sons and daughters who have worked hard over the years to build an ambitious strategic project that will propel our national economy to greater heights," said Sheikh Mohammed at the official launch.
"Connecting the Emirates via a national railway network strengthens our capabilities and competitiveness, and consolidates our unity."
Etihad Rail to provide passenger service for 36 million by 2030
The network will eventually cover 1,200km of track for both freight and passenger services and is seen as a vital element of both the UAE's sustainable development goals and the global supply chain.
Currently, there are 38 locomotives and more than 1,000 wagons, with the trains capable of speeds up to 120kmh. The trains have been specially designed to withstand the high temperatures in the region.
The passenger service should be capable of handling 36 million passengers a year by 2030, linking key cities across the emirates and reducing commute times.
Oman Rail signs agreement with Etihad Rail to link key Sohar port
Oman Rail, the Sultanate's national developer and operator of railway networks, signed an agreement with Etihad Rail, to establish the Oman-Etihad Rail Company in September.

Now a cooperation agreement with Mubadala Investment Company has been signed to support the development of the 303km railway network, which connects Oman and the UAE, with an overall investment value of US$3 billion.
The railway network will connect Sohar Port to the UAE network.
Sohar is Oman's largest port, handling more than 60 million tons of cargo, and provides a vital stop in the global supply chain, linking the Gulf and Indian subcontinent. Sohar is a joint venture between the Government of Oman and the Port of Rotterdam.
The route will primarily link Sohar to Abu Dhabi, capital of the UAE, and provide passenger and freight services.