Saudi Arabia's NEOM – the world's first cognitive city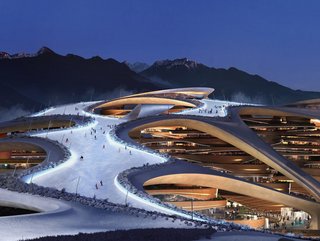 Trojena mountain resort, NEOM
Powered by 100% renewable energy, Saudi Arabia's NEOM will house the world's longest skyscraper and first cognitive community
2017
As part of Saudi Arabia's Vision 2030, to reduce its dependence on oil, Saudi Crown Prince Mohammad bin Salman reveals plans for NEOM – a revolutionary fully-automated car-free giga-city state spread across 26,500 sq-km on the Red Sea coast. The US$500bn high-tech development will feature hyperconnected, cognitive cities, ports, enterprise zones, research centres, industrial and logistics areas, network of airports, entertainment venues and tourist destinations. NEOM will be home to the world's first 100% clean energy system, will preserve 95% of the natural environment, and will be 33 times the size of New York City.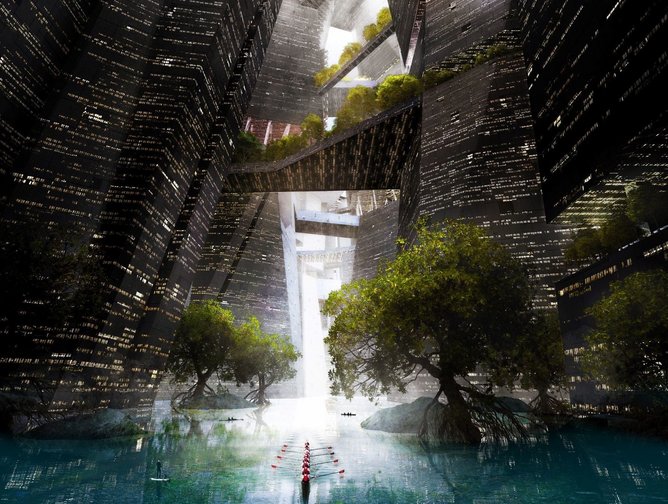 Jan 2021
NEOM announces plans to construct the world's first zero-gravity zero-carbon vertical city. Dubbed The Line, the city marks the first time in 150 years a major urban development has been designed around people, not roads, and the first city to be powered by renewable energy. At just 200m wide, and extending over 170km, the "vertically layered" buildings will house 9 million residents by 2045. Residents will have access to all facilities within a 5-minute walk, and a high-speed train with 20-minute end-to-end transit. Residents will live in interconnected societies run by AI designed to coexist with nature.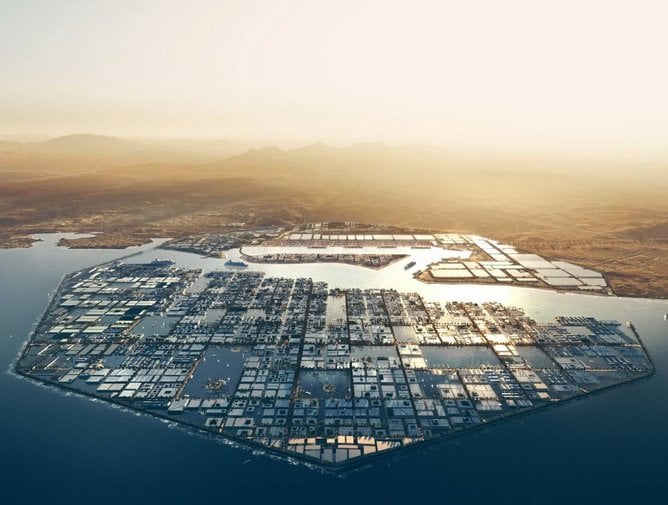 Nov-Dec 2021
Launch of NEOM's industrial hub Oxagon, the world's largest floating industrial complex. Located on the Red Sea close to the Suez Canal, it will establish the world's first fully integrated port and supply chain ecosystem for NEOM City. The port, logistics, and rail delivery facility will be unified, providing world-class productivity levels with net-zero carbon emissions, and setting global benchmarks in technology and sustainability. NEOM and urban air mobility pioneer Velocopter, partner on designing and operating the world's first bespoke public electric Vertical Take-Off and Landing mobility system – in the city.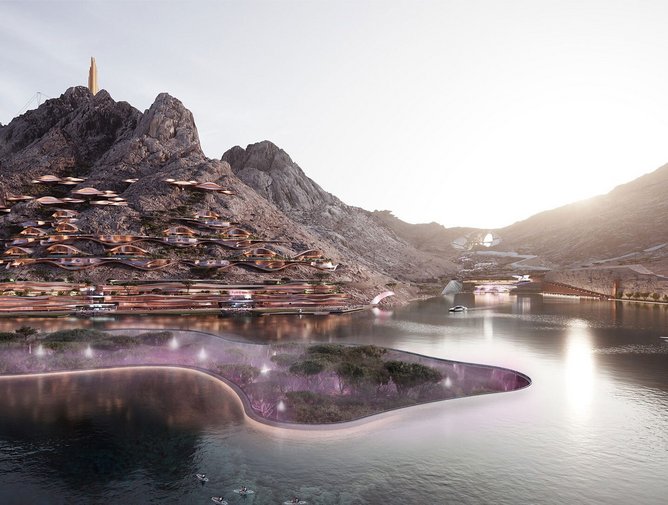 Feb-Mar 2022
Launch of the Trojena Mega Tourism Project, a mountain tourism destination to be completed by 2026. Trojena will include wellness resorts, retail stores, restaurants, ski village, nature reserve, and family resort, and will offer outdoor skiing, watersports and festivals. It will create 10,000+ jobs, attract 7,000 residents and 700,000 visitors by 2030. NEOM launches two subsidiaries: Tonomus is developing world-changing cognitive technologies; while ENOWA will lead development of NEOM's world-class, sustainable energy and water systems, including construction of a US$5bn Green Hydrogen plant – to sell and export carbon-free hydrogen by 2026.
Aug-Oct 2022
Designs for The Line revealed – the 105-mile-long mirrored building will feature two 1,600-ft-tall horizontal skycrapers, in parallel, for 75 miles. They will be powered by renewable energy, and will feature miles of greenery, homes, and farms to feed its residents, and a marina and sports stadium. They will be connected via walkways, and a high-speed train. NEOM Beach Games kicks off in October with athletes from 25 countries in attendance; and Trojena wins a bid to host the 2029 Asian Winter Games. NEOM names Ennismore as Trojena's first hotel partner, with brands 25hours and Morgans Original.