How Saudi is making bold moves in emerging tech adoption
Saudi businesses are pressing ahead with emerging technology adoption, and investing in programs to digitally upskill the population – but is it enough?
If you attended LEAP23 in Riyadh this month, you would know that when it comes to investing in cutting-edge technologies, Saudi Arabia isn't holding back.
The show, the largest global gathering for tech developments globally (300,000 visitors), delivered a slew of partnerships, launches and investments exceeding a staggering US$9 billion.
Among the major announcements were mega economic ventures in the Kingdom's infrastructure, new data centres, multiple partnership deals between the public and private sectors exceeding US$1 billion, and the launch of new academies to improve local talent – including the world's second Meta metaverse academy.
Saudi business making bold moves in emerging technology adoption
And the latest numbers from KPMG back up the Kingdom's appetite, with companies in Saudi moving faster when it comes to adopting cutting-edge technologies than their global peers – 22% are implementing emerging technologies compared to the 10% global average.
This comes as the Kingdom presses ahead with the objectives of Saudi Vision 2030, to diversify its economy away from oil dependency, with technology one of the key pillars of the plan.
According to KPMG's new Technology report, around two-thirds of businesses in the Kingdom say they are either 'extremely' or 'very effective' at using technology to advance their business strategies. And 8 in 10 enterprises say they are at an advanced stage of their digital transformation strategies, something that has positioned them well to adopt new technologies.
"Public and private sector organisations in Saudi Arabia have been investing heavily in digital transformation. Inspired by Vision 2030 and government digital transformation initiatives, companies have set their ambitions high," Robert Ptaszynski, the head of digital and innovation at KPMG wrote in the report.
"Aiming to harness technology to outperform their global counterparts, they have been quick to embrace artificial intelligence, data transformation and emerging technologies."
And almost all Saudi businesses surveyed have successfully used digital transformation to improve their profitability or performance over the past two years, as well as their adoption of cloud.
The majority (86%) say they are advanced in cloud adoption with 80% currently migrating and 6% having completed migration. And the returns on their cloud investment strategies are proving fruitful with nearly three-quarters satisfied.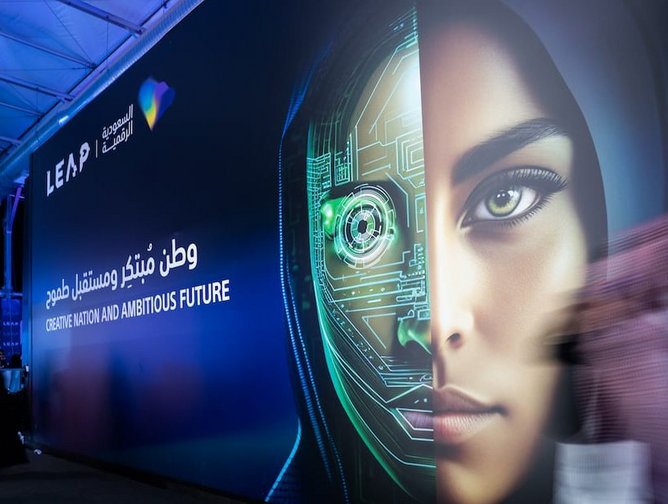 Credit: LEAP23
Metaverse and Web3 proving a positive opportunity for Saudi
When it comes to the metaverse – the virtual space where people represented by avatars can interact – Saudi organisations are positive about the opportunity to embrace this nascent technology, especially given that the Kingdom already has regulations in place and programs encouraging the use of Web3 technologies.
Some 16% of organisations have already having committed to projects in the metaverse or are planning to in the next 12 months – but most are waiting for these technologies to become more developed and widely adopted before investing.
"Some government organisations and companies in Saudi Arabia have already identified metaverse and Web3 as a new potential channel to deliver services to their customers," Maz Hussain, head of KPMG's Digital Lighthouse centre of excellence, said in the report. "However, government departments are naturally being careful to be sure that they pick the right pilot projects."
The Kingdom is using the metaverse to help develop its vast US$500bn megacity NEOM, something the government is keen to explore in all major construction projects. While NEOM's tech subsidiary Tonomus is building the 'first metaverse that is actually a metaverse' – a platform that will enable visitors to have a simultaneous presence at NEOM both physically and virtually.
It's not the only metaverse project recently announced. Saudi's Digital Government Authority signed a partnership with The Sandbox on future metaverse developments; the Kingdom's Housing Ministry unveiled Sakani Metaverse, a platform that allows real estate buyers to view properties via the metaverse.
While KPMG Saudi has just announced the creation of a centre of excellence in the country. Working with IT suppliers, Microsoft, Ericsson and Metakey, KPMG will use the centre to accelerate the development and adoption of the metaverse as well as digital twin technologies in Saudi and the wider region.
KPMG's Maz says there has been "immense" financial commitment to explore the public utility of metaverse in the oil-rich country, adding that the "metaverse will help make Saudi firms more competitive and open up global opportunities."
Digital talent a challenge, but upskilling programs roll out
While the public and private sectors are embracing of new and emerging technologies, finding the talent is the biggest stumbling block to technological adoption.
More than one-third (41%) of Saudi leaders identified lack of capable talent, a blend of business domain acumen and digital skills, as one of their biggest challenges.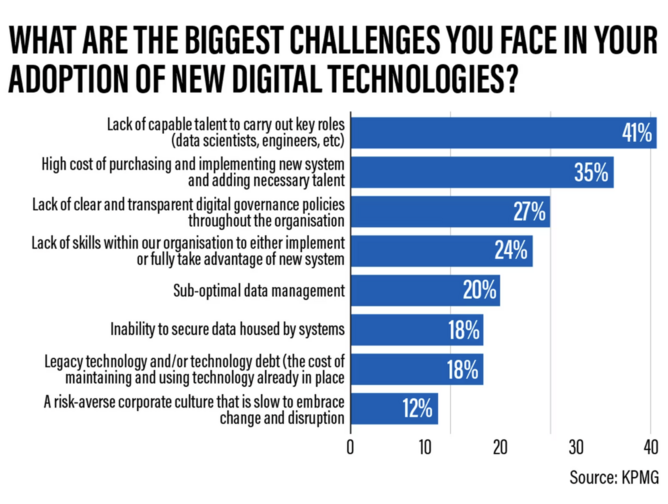 Credit: KPMG Saudi Arabia Technology Report 2023
And this, despite the Kingdom ranking among the top 10 countries in digital skills, according to WEF's Global Competitiveness Report for 2020.
To counter this, many large Saudi organisations are investing heavily in developing in programs to train and develop local talent, and/or launching new academies to improve local talent.
And over the past three years, the Saudi government has pushed to create training programs to significantly increase the number of Saudis (and especially women) entering the workforce with up-to-date digital and technology skills.
They have partnered with IBM to support the upskilling of 100,000 Saudis by 2030, focused on "critical areas where the use of technologies is fundamental", Fahad Alanazi, the General Manager of IBM in Saudi said. And recently, during LEAP2023, the National Technology Development Programme launched the US$48m Tech Crew, to support the recruitment of technology employees by offering salary subsidies.
With 65% of the Saudi population under 35, predominantly living in urban areas, and highly educated, the country is in a prime position to embrace emerging technologies, and to tap into the extremely high STEM educated female population.
The participation of females in the tech sector stands at 28%, as of the the third quarter of 2021, well above the European average rate of 17.5%. "We have jumped from 7% women empowerment in tech and stem to 32%, surpassing the EU, G20 and even the Silicon Valley average," the Kingdom's Communications Minister Abdullah Alswaha said during the recently held WEF in Davos.
Alswaha also said the Kingdom is "doubling down on talent and technology in the industrial metaverse" and just this month, Meta announced it would open a Metaverse Academy in Saudi, marking only the second one worldwide, after the debut in France last year.
Scheduled to open in Riyadh this year and launched in partnership with Tuwaiq Academy, it will "provide access to world-class education and skill development opportunities to individuals across the region", Faisal Al Khamisi, chairman of the Tuwaiq Academy said.
"This partnership with Meta allows us to continue this mission and support the growth of the Metaverse ecosystem by training and empowering the next generation of metaverse builders and leaders."
The Academy plans to launch a series of programs from May 1 that will equip 1,000 students in the first 18 months with the necessary skills to pursue a career in the growing metaverse industry.
And diversity takes centre stage with female students making up at least 30% of the cohort.