McKinsey says MENA fintechs will triple revenues by 2025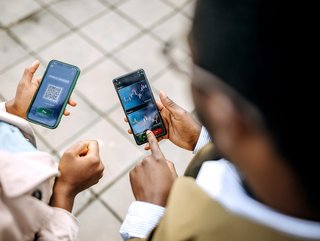 The MENAP region has shown investment growth of around 36% per year from 2017 to 2022
Fintechs in the Middle East and North Africa are growing strong, thanks to funding increases and revised licensing, says new deep-dive report from McKinsey
It has been a torrid 18 months for the global tech industry.
While many tech giants (Apple, Amazon, Meta, Microsoft) have suffered, there are pockets of homegrown disruptors gaining a strong foothold in regions including the Middle East and North Africa (MENA).
Add in Pakistan, and the MENAP region has been positively robust when it comes to fintech, showing investment growth of around 36% per year from 2017 to 2022.
While fintechs in the region have not been unaffected by the global decimation of valuations, many have adapted, realigned their expectations, and even thrived.
So much so that a new report from McKinsey analysts estimates that MENAP fintech revenue could increase from US$1.5bn in 2022 to almost US$4.5bn in 2025. This would more than double fintech's share of financial services revenue.
"Based on our conversations with leaders of 90 firms active in the region – including start-ups, bank and nonbank incumbents, and investors – we believe fintech innovators could play an increasingly significant role in the way consumers and businesses in MENAP conduct daily transactions and build wealth for the future," says McKinsey in the report.
Realising this potential will however "require that diverse actors reinforce the fintech ecosystem with capital, regulatory and market harmonisation, talent, and partnerships."
According to MAGNiTT, funding for fintech startups in MENAP hit US$885 million in 2022, up from US$200 million in 2020.
That funding has been towards fintechs in the UAE, Egypt, Bahrain, and Saudi Arabia in particular. The UAE attracted the lion's share of that 2022 funding (37%), then Saudi Arabia (25%), and Egypt (20%).
Yet while the UAE is still the first port of call for funding, its dominance of the regional fintech scene is shifting. From 2021 to 2022, funding for fintech start-ups increased a staggering 335% in Saudi Arabia, with 'just' a 75% increase in the UAE.
Among fintechs that have raised funding this year are Egypt's MNT-Halan, UAE's Tabby and Saudi's Tamara. While MNT-Halan secured US$200 million from Chimera Abu Dhabi, Tabby raised US$58 million in a Series C funding round, and Tamara secured a debt facility of US$150 million from Goldman Sachs, marking a regional first, and making it the highest funded startup in Saudi.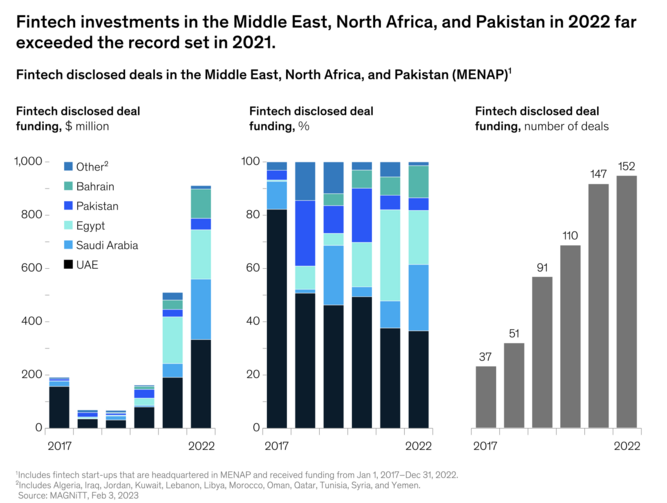 Funding for fintech startups in MENAP hit US$885 million in 2022
McKinsey's report has identified five categories of players in the MENAP fintech ecosystem:
Just as fintech companies have spurred growth in the US and the US, the MENAP fintech sector is beginning to make its mark on the region's financial services landscape, the report finds, with the sector seeking to broaden financial inclusion, increase customer choice, lower costs, strengthen resilience and security, and more.
"Broader adoption of fintech solutions also has the potential to boost the productivity of financial services organisations and push returns higher."
To reap these gains, McKinsey advises industry stakeholders – incumbents, new entrants, investors, regulators, and others to "consider the opportunities for collaboration to fortify the foundation for innovation and value creation".
Read the full report