Dubai tourism, hospitality and property markets are booming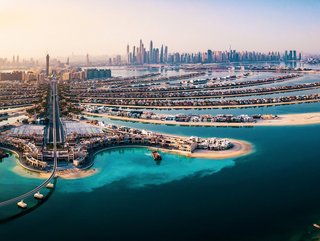 Palm Jumeirah and Dubai Marina did not exist 20 years ago
As tourism numbers reach a level higher than pre-pandemic, Dubai's real estate market is booming to meet increased demand for hotels, shops, and property
Think of Dubai and you probably conjure images of mega shopping malls, fantastic 5-star hotels, and unreal real estate. There is more to the emirate, of course, but shopping, hospitality and a buoyant housing market are all fuelling Dubai's continued economic 'miracle'.
That has to be good news for JLL – a leading player in the real estate and hospitality services markets, with the MENA division working in 35 countries in the region and offices in Dubai, Abu Dhabi, Riyadh, Jeddah, Al Khobar, Cairo, Casablanca, Johannesburg, and Nairobi.
JLL's recently released UAE Real Estate Market Overview Report shows that the appetite for Dubai is showing no signs of waning. In fact, tourism numbers are soaring, new hotels are being added, and property prices are rocketing.
The JLL report says strong tourism numbers from India, Russia and neighbouring Oman saw Dubai welcome 3.1 million tourists in the first two months of 2023 – up 42% on last year.
That is backed up by new data from Dubai's Department of Economy and Tourism. In February, Dubai's tourism surpassed pre-pandemic levels with 1.63 million visitors – up 7% from 2019. Dubai is also the world's busiest international airport.
"While all sectors continued to build on the performance of 2022, the year's well-planned calendar of events coupled with the continuous increase in tourist numbers, have firmly placed the hospitality sector on a growth track, reaffirming its position as one of the strongest pillars supporting the UAE's economic acceleration," said Faraz Ahmed, Associate, Research at JLL MENA.
"However, macroeconomic volatilities continue to influence global travel trends, making it critical for operators to employ effective revenue management strategies to boost topline revenues, particularly those in the luxury segment."
The UAE seems to have little to worry about when it comes to global travel trends, welcoming an ever-increasing number of visitors from traditional markets (GCC and Europe) and important growth source markets like Russia and China – thanks to open borders and a politically neutral stance.
In January, Russian visitors to Dubai totalled 115,000 – up a staggering 63% from 2022 and making it the second largest source market, behind only India.
Those tourists need places to stay, and hotel stock in Dubai continues to rise, with 2,000 more hotel rooms added, pushing the total above the 150,000 mark. Another 8,000 are expected this year.
Putting that into context, the UAE's capital city Abu Dhabi added 200 hotel rooms, for a total of 32,500.

Retail showing signs of a rebound in Dubai and Abu Dhabi
When it comes to retail, it seems the UAE simply cannot get enough. An additional 34,000sqm was added in Dubai, making a total stock of around 4.7 million sqm.
Perhaps surprisingly, Abu Dhabi is not as far behind in terms of retail as it is hospitality – thanks in part to an additional 212,000sqm being added for a total of 3.1 million sqm. That gap will increase this year, with around 194,000sqm coming to Dubai and just 19,000sqm for Abu Dhabi.
Importantly, this supply is coupled with demand. Prime malls in Dubai saw a marginal increase in rents (just 1%) while average rents decreased by a similar amount. In Abu Dhabi, rents remain reassuringly stable, with less competition for landlords to worry about.
Residential sales booming, and off-plan still attractive
Dubai especially has been a popular real estate market for foreigners since restrictions on foreign ownership began to be lifted in 2002. Since then, entire districts have been built (such as Dubai Marina, Downtown, Palm Jumeirah) to satisfy this demand, and while construction may not be at the same dizzying heights the emirate saw in 2008, almost 10,000 units were added in Q1, with another 32,000 coming this year.
Rents in Dubai increased by 28% in February 2023 (compared to a year ago when the market was admittedly depressed somewhat), and total sales rose 50% in the same period. Sale prices have increased by 12%.
Off-plan sales showed signs of recovery late last year and consumer confidence seems to have returned.
There seems to be no stopping Dubai right now, and Abu Dhabi is also rising – but let's not overlook the five other emirates that make up the UAE. Of those, Ras Al Khaimah is showing the most development as it leverages its diverse landscape to attract record tourists while building multiple big-brand luxury hotels and the UAE's first casino.